Race Comments - 2009
Dixon, California — November 1, 2009

Heading into the final race in the NorCal Gold Rush Series, Austin is positioned in the front row, tied for 1st place!!


The weather is beautiful, the pits are full of racers, and the excitement is high as this is one of the biggest club races of the season..

Saturday's testing went well. Sunday morning's first practice and we're running in the top 3 fastest times. Back at our pit we do a few last minute changes then hear the call to push up to the grid "HPV2 make your way to the grid for your first Heat race" comes across the loud speaker!!

We push up and unload our kart; Austin climbs in and begins to focus. Several competitors come by to offer him a handshake for good luck as Austin is the favorite to win today... he sits quietly watching out to the track where the last class is finishing their race. I grab my camera and begin taking pictures of the 26 kart HPV2 Jr. field sitting in their karts on the grid, Wow! ...my heartbeat begins to pound faster. I take a deep breath and look over to Austin, at that exact moment, he looks over at me, I give him a slight head nod and he gives one back to me.. We're ready!

Flagman walks over and gives the "start em up" signal and Austin speeds out of the grid with such force, coming around on the warm up lap he is scrubbing his tires trying to get them heated up quickly as the next lap will go Green!

I hurry to the fence line along with the other teams... just in time to see Austin speed past me and down into turn one heading over to grid up with the rest of the front runners. Tied for 1st place with our competitor who is right behind Austin in the start.. I know Austin must be thinking.. "I could brake check em" and the other driver tied for 1st thinking... "I could push Austin off line" but I'm happy to report that both drivers held themselves to the higher standard and made it through turn one with a clean start. And the race is on!

Austin quickly makes the jump into the lead, holding here for the rest of the 12 laps finishing in the top spot of the points drivers. He is still tied for 1st place going into the Main Event later in the day.

Our time has come to push up to the grid, by this time, the sun is starting to go down. We head to the grid and get ready. Out onto the track and they are coming around the last turn headed for the starting line, I look out onto the track and realize that half the track is in the shade now and obviously has cooled down... my thoughts quickly turn to the fact that we didn't set our tire pressure for the cooler track, I hold my breath and the flagman throws the Green!!

Heading into turn one and then around turn two, he makes it around clean and comes out in 2nd!!! I'm so excited because the guy in front of Austin is not in the Championship points for this series…I think to myself "Just be smooth Austin, pedal to the metal and no mistakes Buddy. You got it baby!! Then on the second lap the racers come flying past the stands and down into turn one. But Oh no. Austin gets passed by his competitor... then another driver passes... my heart drops and I can't believe what is happening. Our kart is not as fast as it should be... oh my gosh I think... his tire pressure was set to run fast on a hot track and this track has cooled down. Heartbreaking. I see Austin trying to tune his carburetor for more speed and trying to give it all he has to catch back up to the one he has to beat in order to win the championship... He makes the pass on the one driver and focuses to catch up to the other one... sadly it took too long for our tires to "come in" and we didn't make it. The checkered flag would not be ours.

Both Austin and I felt this one and unfortunately the feeling was like having the air let out of us. We wanted that end of the season Championship spot so bad.

That was the mark of the end of our 2009 racing season. However, immediately following this race, Austin was given the opportunity to be sponsored with a chassis and engine from his team, Kartel Motorsports, to team up with two other drivers in an Enduro style event at the Infineon track in Sonoma on December 5th. This is a very exciting opportunity for the 3 driver team to compete against other Jr. enduro teams. They will take turns in the team kart running 30 minutes at a time for a total of 4 hours. It will be a race of endurance for the drivers and the mechanics to keep the kart running for that long. We will have 5 minute pit stops every 30 minutes to do any repairs and maintenance. Wish us luck as the 3 boys will be representing Kartel Motorsports and Magnum Racing Engines and going for the win in the Jr. class.

We want to give a special thanks out to Ernie Fechter @ Door & Window Stop for sponsoring Austin to race the Gold Rush series. Also to Jim @ Nilsson Racing for assisting us with mechanics and tuning.
---
August 15, 2009

ProKart Challenge, Sonoma, CA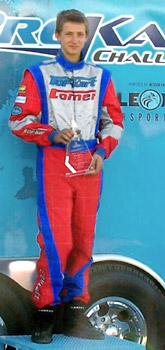 Austin takes the #1 spot on the podium!! Finishing 1st in this race #6 of the 7 race series was sweet for our team. We've been waiting for this First place finish at Sonoma..

The day was great, weather was very nice and the atmosphere calm. Uncle Ron shared mechanic & tuning duties with me, I always enjoy his help, it sure makes it easier on me and gives Austin a break to just focus on his racing.

Next Sonoma race will be September 12, 2009. This will be the last of the 7 in this series and we are hoping for another first place finish. The kart counts are down due to the end of the season and the guys that are not in the top spots have pulled out but we will be there as our driver is currently holding 2nd place overall.

This weekend our focus will be on the race in Atwater, CA. The Door & Window Stop in Shingle Springs is sponsoring Austin to run this weekend, Thank you Ernie!! This is the 2nd race of a 4 race series. One of the prizes up for grabs at the end of 4 races is actual green spendable money! We are hoping for a chance at the pot in November at the last race.

Hope to see you at the track..
---
July 15, 2009

I know it looks like Austin hasn't been racing but actually it's the complete opposite. He's been on the track quite a bit.

Following the discouraging race in Sonoma in March, the Prokart Challenge #2, (we had engine trouble) we decided to keep our heads up and make our way to Dixon, CA for the club's Crossover race event. Austin puts it on Pole, wins the pre-final race, and takes 3rd in the Main Event.

Then we pack our bags and off we drive to Reno to join in their club race, taking Top 3!! Immediately that afternoon we turn around and head back to Sonoma for the ProKart Challenge #3 and Austin takes 4th place in the Main Event... We're feelin' better now and one week later we're back in Sonoma for the Premier race "STARS of Karting" event at Infineon raceway, taking top 10 in this highly competitive race with guys from across the United States. What a great experience attending a race of this caliber. Four days on the track, complete with Parc Ferme (where fuel & tires are held and controlled), racing schedules that are on-time and to the minute each day and video cameras catching all the action. However, racing over 4 days, there is a lot that happens and I know it's too much to write about here so I must skip the great details.

After the STARS race we head down south to Buttonwillow Raceway for the North vs. South ProKart Challenge Shootout race #4. One hundred and ten degrees outside, huge competition, again we had engine trouble and got taken out in the main event, Austin getting run up on and his exhaust pipe ripped off and he was out of the race... dang, sometimes this racing is so hard...

Picking ourselves up and back on it we head to the next stop, back to Sonoma, CA., finished in the Top 5.

On our way to Reno again to join in another club race and we take Top 3.

Friends & sponsors jump in and help us make changes and upgrades to our equipment and we get the engine dialed in... Thank you very much!!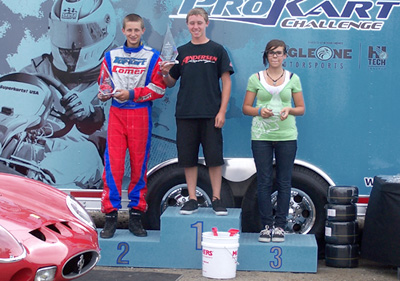 This past weekend back to Sonoma, the Prokart Challenge race #5. Top 2 this time. Austin drives well, but is held up too long behind another driver, the leader runs too far away to catch in the laps remaining. Austin lands the podium, next to the 1st place spot... it feels good and he gets some of his racing Mojo back.

Now we're packing for Reno, the home of the 2009 IKF Grand Nationals coming up next week. We are heading over the mountain to do some testing this weekend. This race will bring competition from across the ocean to compete for the coveted Duffy Award. This award named after the founder of karting, Livingston Duffy and holds a great deal of prestige for the winner. This race is big and we are looking forward to being there. Come and watch Austin competing Thursday the 24th and Friday the 25th!! It'll be fun!

Next I want to say Thank You to everyone, all our sponsors and supporters who help us get to these races. Austin is gaining a lot of knowledge and experience which will help in carrying him to his dream of Indy... We're working on his shortcomings and enjoying his successes.

We would like to thank our newest sponsors!!! Two of which are returning sponsors from last season and one new sponsorship.

We first want to thank Todd Jones at Fresno Specialized Recyclers for his tremendous financial assistance; it would be difficult to race without your assistance Todd, Thank you so much. Todd has a terrific automotive recycle business in Fresno. He is in the business of car parts, used and new car parts. In this tough economic time, more and more people are turning to Todd and the recycle car business to repair their own cars. Go see Todd, he's a great guy, honest and trustworthy and he has the parts you need to put your car back together at a much better price than the dealers.

Our other returning sponsor is Snap Fitness. Becky is a tremendous gal and she knows how to run a business!! Snap Fitness is in two locations, one in Shingle Springs and the other in Placerville. Her gyms are more on the personal side, smaller and more intimate. Access is available 24 hours a day so work out whenever you feel like it. You can also attend any other Snap Fitness clubs in any other areas.

Joining our Racing Team, new this season, is Ernie Fechter, owner of The Door & Window Stop in Shingle Springs, CA Ernie is another great guy and he is ready to provide you with great quality and competitive priced doors and windows for your new home or your remodel. He has joined our team in a top sponsor position and we Thank you Ernie!! You can contact his shop at 530.677.0354.

I also want to send a 'shout out' to our family & friend sponsors, Grandpa Stafford has been instrumental in getting Austin to these races, Grandma Linda & Grandpa Don, couldn't have even made it this far without you. Uncle Ron & Patsy, Aunt Cynthia & Ron, , Cuz RD & Tammi, Uncle Bob, Cousin Troy, Aunt Connie. Also want to thank a few special supporters: Lisa Caceres of Race Karts Inc., Doris Caceres of the Racer's Retreat Bed & Breakfast in Novato, also Kartel Motorsports, Bordogna Racing Engines, Swedetech Racing Engines… Thank you all..
---
February 9, 2009

First Race of the Season ~ Southern California



What's that song?... It Never Rains in Southern California ? Ya right! Well the song is wrong as we raced in torrential downpours at times, this past weekend at the First Southern California IKF Region 7 series Race at California Speedway in Fontana.

We flew into Ontario Thursday night, and out to the track Friday morning. Austin was anxious to get out onto the track to figure out his racing line. Practice was very short, he was only given 28 laps to learn the track. This isn't nearly enough to get comfortable but that's all that was available to him.

Day One ~ HPV2 class ~

The competition was just what we expected, as we rolled up to the grid Saturday morning for the first practice of the day. There were big names at this race, and plenty of them. Up until now we've only read about these drivers in the kart racing magazines and Internet racing sites. So it is, our first So. Cal. Racing experience..

Austin, very excited to test out the Cal Speed track for the first time, pulled his helmet on and climbed into the seat of his machine. A few moments later the track official gave us the "start em up" signal. Twenty-four engines quickly fired up and chassis rolled out of the grid and onto the track.

Very impressive group as the So. Cal. regulars quickly got up to speed. Austin right in the pack, confidence is showing as he wheels that kart around the other drivers. The track was wet and slippery as it had a sealant on the asphalt...a very slippery sealant so keeping the kart on line was tricky. This track was wet as it had been raining just prior to practice and only got worse as the day went on.

Two practice sessions and it's time for qualifying....oh man! We qualified 20th out of 24....not good as he starts the Heat race in the back.. We head back to our tent to get the kart ready. Our time has come to race and we push up to the grid. It's a little humiliating placing our kart at the back of the pack, especially because he has a woman crew chief.....ugh (female crew chief looks more impressive when we're gridding near the front, haha, okay so we swallow that one...)

The teams are given the signal and the karts are sent bulleting out on the track, Austin forceful and focused. He's gotta put on a passing clinic if he wants to get any kind of decent finish for this heat race. Coming around to the starting line the drivers are clippin' along at a good rate of speed toward the flagman and there is so much water on the track only the two drivers in the front row can see anything. The rest are in a white water blanket and can't see a thing. They have no choice but to follow the bumper ahead of them and accelerate when they do, hoping no one crashes before the start.

The green is thrown and the karts take off headed for turn one...all 24 drivers make it!! Austin proceeded to start passing... one kart at a time until he's in the 10th place position....I'm so excited at this point and hanging onto the fence...his driving is smooth and he's progressing toward the front when all of a sudden he is passed back by 1 driver, putting him back to the 11th position and the race is over. This is where he placed going into the Main Event.

Onto the Main Event and once again the conditions are the same, Wet!! Making 4 passes to 7th position only to lose them during the race. This is okay though and he finishes 11th.

Day Two ~ HPV2 class ~

We're out to the grid for qualifying, Austin grabs a 13th place spot to start the Heat. Okay better than the previous day..The passing during the race was abundant. Austin handled his kart so well as the rain came pouring down on top of him. Last season Austin was nicknamed "Austin, the Raging Rain Elliott".. because he is a talented rain racer and had won the final IKF race at Davis, CA in the pouring rain.

Finishing in the 10th spot put Austin right in the middle of the pack to start the Main Event. Out of the grid and onto the track the 24 drivers come around to the starting line. The rain is coming down so heavy now and the track is starting to flood in the low lying areas... one of those areas being the starting line. As they roll around the final turn toward the start we can hear the engines roaring and water is shooting up in the air from their tires, I can't see our driver as he is in the middle of the white spray of water... into turn one and they all make it around and the race is on!!!! Austin is aggressive and he isn't letting anyone pass him. All of a sudden he starts slowing down and driving erratic. I can't tell what is happening as he is clear across the track. I'm standing at the fence wondering what is happening. My heart pounds even harder as my concern starts to rise. I start wondering about his health. I had no explanation for the erratic driving... As he comes back around and drives past me, I can see his visor is clouded up so bad that he can't see... He can't See anything I say to myself!!! Sitting there watching in amazement that he is even still driving. I'm sure he is going to come off the track and end his race. Ok I just can't believe this!! I forgot the RainX on his visor! Bad Crew Chief! I say to myself... haha I sit helplessly as I watch him leaning his head back in order to see through this very small area at the bottom of his visor that he was able to get one finger inside his helmet to wipe it a little bit. Talk about kicking myself and then... he speeds up and begins passing, and being passed and then passing back. His foot on the throttle, his head back looking through the small area, and soon I realize, nothing is going to stop him.

The guys on the team tell me not to worry, that this is good for him to adjust and make it work in the worst of conditions...Ya right, I say to myself!!! But I give in and agree, thinking to myself... but I'm the mother and I'm worried...

Oh ya but I'm also the crew chief and have to agree this is good experience for him. Feeling so bad the whole rest of the race I watch him racing to the best of his ability. He finished in the TOP 10!!! I can't believe it! They throw the checkered flag and he's comes in to the scale house.

As he gets weighed and gets out of his kart, he removes his helmet and there is black water rolling down his face, small pieces of black debris all over him and his kart from the wet track, and then I see his eyes... They are as big as silver dollars and his mouth is wide open, I could tell his heart was pounding a hundred miles an hour and he says "I couldn't see a thing!! I raced that whole race and I couldn't see a thing!!!" I laugh and at that point it was hilarious and I realized, it was a good thing... Austin proved he could race in the worst of conditions and still come out in the Top 10 of a highly competitive kart race.

To say I'm proud of him is an understatement. Never have been to that track and then very little practice, pouring down rain conditions, clouded visor and still a Top 10! He is a Racer for sure...

Next Race is the first race of the series we are running at Infineon Raceway in Sonoma, CA. The race is March 14. Between now and then we will be testing as much as possible at that track to get ready. Hope to see you there for the race!
---