Race Comments - 2012
Racing News Update:


Dec 6, 2012 —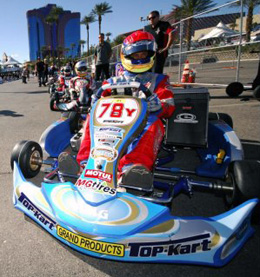 Team Top Kart/Grand Products driver, Austin Elliott headed to Las Vegas, NV to compete in the largest karting event in the United States, with the best drivers from around the nation. The goal was to challenge for the top spot in the Pro Tour championship series. Elliott had earned enough points from competition earlier in the year at the SKUSA Spring and Summer Nationals to give him third place points going into the race in the TAG Sr. division. The SKUSA Super Nationals XVI was held at the Rio All-Suites Hotel & Casino in the parking lot, which was transformed into a large kart racing track.

The practice days showed tough for Elliott, being behind the mark a bit and then mechanical issues would retire one of Austin's best engines on day two. Day three started with one last practice session to fine tune the kart and to hone the driver's skills, but would only show 33rd fastest in the overall times. After making the necessary adjustments and Austin studying the racing line one more time, he was ready for qualifying. Elliott hit the track looking for the best position to run his fastest time without running into any obstacles. As soon as Austin found his spot, his lap times started to drop by seconds, then by tenths, until finally the times stopped dropping, ending up at a 46.242 which was good enough for a 4th place qualifying time that would earn the young driver an off-pole starting position for the three upcoming heat races. "I was surprised upon hearing that I qualified fourth" stated Elliott. "It was a relief to know that even though we had some bad luck in practice, we came back and brought it all together when it was needed the most."

Starting on the front row in Heat one, Elliott fell back to third early on and then found himself in a heated battle for the second position. Passing back and forth, Austin ran most of the race in second at a pace that was faster than the leader, but in the end he would have to settle for third. Day two showed the same results as Austin would pull out two more third place finishes in the final two heat races. With (3) third place heat race finishes and a total of 9 points, that would be good enough for an off-pole starting position for the Main event on Super Sunday. After having such a great run in the three heats, Austin was eager for Super Sunday so that he could showcase his talents one last time.

Once everyone was griddled up, Austin and the leader would bring the 42 kart field to the starting line at a very slow pace. The green flag would wave on the first attempt. Trying to avoid the carnage from the karts pushing from behind, Austin fell back to eighth coming out of turn one. He then started to make his move, pulling the trigger on two drivers making his way back towards the front. Looking to gain another position, Elliott pulled to the inside of fifth place coming out of turn two. Contact then sent Elliott into the barriers and he would be forced to forfeit the race prematurely.

"Even though we didn't get the finish that we were hoping for, I am still happy with the weekend." stated Elliott. "I learned a lot that I will be able to use in future races and to better myself as a driver and tuner/mechanic and I look forward to what the 2013 season has in store for the Austin Elliott Racing Team."- ekartingnews.com December, 2012

---
Austin Elliott Makes Stellar Run at SKUSA SpringNationals


May 3, 2012 —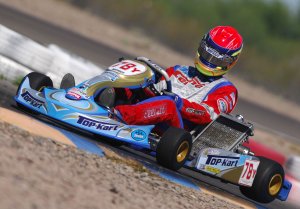 Racing Under the hot Arizona skies proved to be good for Austin Elliott Racing. After making the long trip to Arizona, excitement mounted pulling up to the PKRA (Phoenix Kart Racing Association) karting facility for the opening rounds of SKUSA's five round National program. The pits were full and everyone was busy setting up for this huge event.
While previously having a bit of bad luck, but showing good speed, in the first two rounds of the SKUSA Pro Kart regional series, Elliott was eager to get on track and start racing. Friday practice would again show good speed but wasn't quite where he wanted to be. By the end of the day he would post times that were good enough to put him in the fast group for Saturday morning round one qualifying.
The momentum was good to start the day on Saturday, posting the eighth quickest time in the morning warm-up session was promising considering there were 43 competitors in the TAG Sr. division. Qualifying wouldn't go as well though, coming up a bit short of the top ten to qualify thirteenth. Still optimistic for a top spot finish, Elliott made a big push, working his way up to eighth. Another good run in heat two and his momentum was forward, finishing sixth. Next up was the long 20 lap main event and he was ready to do the same as he did in the heat races. His goal was to move as far forward as he could. The level of competition at this event was high, stretching the talents of these TAG Sr. drivers to the edge, Austin knew this and wanted to continue to prove that he's a National level competitor. Keeping his concentration and drive to continue moving forward, he would finish fifth. This would be a successful first day of racing for Austin!
After a great run on Saturday, Elliott was looking forward to Sunday's round two race action. The good feeling wouldn't last long though as half way through the morning warm-up, engine problems would arise forcing the team to turn to their back up engine power. Qualifying wouldn't go so well for the Californian, as he posted a time that was only good enough for fifteenth. The feeling was uneasy going into the heat races but after getting a good start in the first heat, Austin would make his way up into the top ten. Tuner Wesley Boswell knew what they needed and would go to work on the number 78 Top Kart. Looking for more speed and another good start in heat two was just the beginning as Austin made a huge charge towards the front, making up 8 positions which would put his P1 powered Top Kart into 2nd and a front row starting spot for the main event. When the green flag flew, the inside row saw to have the advantage and Austin would have to settle in for fourth going into turn one. Austin once again made a charge towards the front, passing his way up into second for several laps. Racing to the checkered flag Austin would have to settle for third earning a top three finish and his first ever podium at a National event.
"This was an incredible weekend for me" stated Austin. "I am very happy with a Top 3 and Top 5 for results". "I want to send a big thank you to Phil DeLaO for all his help this weekend and also congratulate him on his wins". "It was good racing at this level, the competition was stout and I'm looking forward to race again". The next round of the Pro Tour will be the SKUSA Summer Nationals and will take place July 20th – 22nd at Miller Motorsports Park in Tooele, UT.
Austin would like to first thank his Mom for all the hard work and effort she puts into his racing program. His sponsors that make this all possible; Mike Tetreault at Grand Products, Inc., Jesus Vasquez at P1 Engines, Fresno-Tap Recyclers Auto Dismantler in Fresno, SNAP Fitness of Shingle Springs, RDS Race Cars & Chassis, Ron Winter of Avery Dennison, STAT Medical, Sons of Stafford Plumbing and Race Karts, Inc. A special thank you to Austin's uncle Bob for helping the team with expenses and shooting camera/video footage at the race. Big thank you to his tuner and mentor Wesley Boswell and to the Kutchers for putting on this event. - ekartingnews.com April, 2012